We've been asking quite a lot recently for donations of loose parts (Thank you once again for those who have contributed) but we thought the best way to tell you about the benefits of loose part play was to show you.
Terrie and Paula have been down to Scrap Antics (Unit 2, Meadow Mill, W Henderson's Wynd, Dundee DD1 5BY) this week. They were both in heaven! It's a treasure trove of scrap materials and loose parts. They have back yesterday with Paula's car absolutely chock a block of resources – can't remember seeing Terrie so excited! She came running back into the nursery, laden with suitcases, hats, old fashioned tins and other fantastically unusual and intriguing resources.
We have turned one of the spaces in the garden ( the one at the corner of Claverhouse Road) into a loose part area.
It's away from the busy play of the main garden and makes it an ideal space for children to get deeply involved in their play with minimal disruptions.
Today Terrie and Lauren took a group out of children who wanted to go an explore in the loose parts area.
The area has pallets, crates, an iron board, a sink, voiles, pipes, tyres, a table, rope, a big plastic blue keg, large wooden electrical reels, microwaves, pits and pans and a keyboard. And pegs.
We would like to share with you the wonderful play that Terrie observed.
When they first went to the space, the boys went immediately to the bat cave that they had begun constructing yesterday and one of the girls asked Terrie if she could help her to move the electrical wheel so that she could use it as a table. Then the rest of the girls found little wooden logs and moved them to sit around the wheel so that they all had a seat to enjoy their cuppa.
Back to the boys!
So. They asked Terrie if we had some pegs  – they wanted to make sure their roof stayed on the bat cave. Once the roof was securely attached, the boys then moved the keyboard into their batcave so that they could be gamers. 🙂 Loads of conversations took place between them and once Terrie was satisfied that the children had the area as they wanted she was able to find a spot where she could observe the children unseen.
To begin with there were two separate groups – the boys in the batcave and the girls were engaged in imaginative play with the pots and pans – making soup for their mum, having cups of tea, That kind of thing.
But often, we find that there is one particular resource that changes how the play progresses or is one that all the children are interested in,
In this case it was a keyboard of all things.
The boys had it to begin with, being gamers, and the girls were very keen to have their turn. But Terrie was able to gently explain about waiting for your turn, and really, they were so engaged in their play, they were fine to wait.
At this point, one of the boys spotted the large drum and declared in a confident voice that he was big and could climb inside it. He proceeded to use some of the equipment to climb on and he was, in fact, able to get into the keg pretty easily.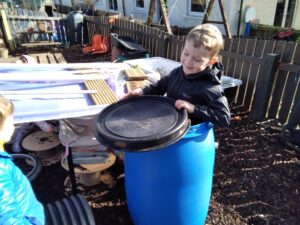 Of course, once the boys spotted this, they left their batcave to see if they could manage to do this too.
Once the girls had spotted that the boys had vacated the batcave, and more importantly they had abandoned the keyboard they were off like a shot to have their turn.
Once in the batcave, the girls enjoyed the keyboard and they used in different ways. Daisy was able to tell her friends some of the letters she recognised on the keyboard. She said "Look. D for Daisy!" and then Cienna commented "Oh. There's C for Cienna" and then Daisy continued "Look Freya, There's F for Freya." They then enjoyed a bit of a song song.
So here is a snap shot of just one play session.
So much learning is going on here.
There is team building – working together, sharing ideas, compromising, negotiating.
Language skills – So. Much. Conversations. Talking with your friends. Being able to verbalise your ideas. Listening well. developing vocabulary. Identifying letters.
Physical skills – large movements, small movements ( letting children use their little fingers in these small ways is good support for developing pre writing skills)
Imagination – all the ideas in this play came from the children.  When we believe in our children and give them freedom, fantastic resources, time to follow their ideas then their play will never fail to amaze.
The whole experience was wonderful – for the children and for Terrie. The time spent was productive, fun, respectful – there was no bickering whatsoever – the children were receptive to each other's ideas and were happy to try out new things.
More days like this please.